Heinde & Verre chocolate is all natural, no artificial flavours, coloring and preservatives. We just use slow food techniques, the art of roasting, slow grinding and aging to get the best out of cacao beans.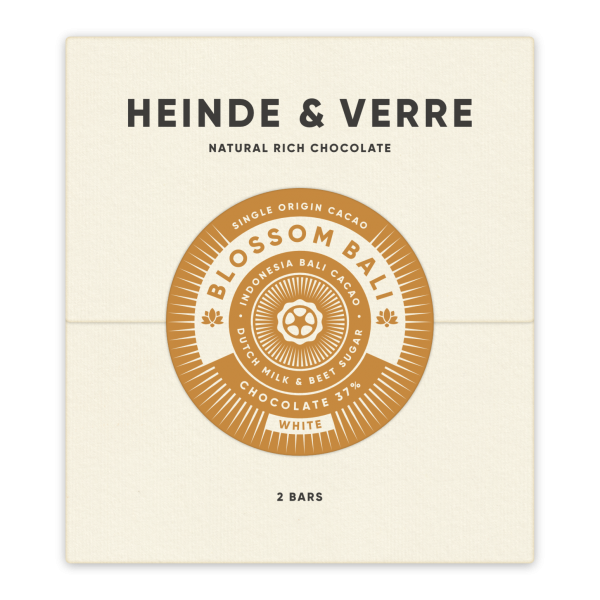 BLOSSOM BALI
Grand cru floral white chocolate
DESCRIPTION

Natural, no additives. The white chocolate that actually tastes like chocolate.
BLOSSOM BALI single origin grand cru white chocolate is made of premium cacao butter from organically grown sun dried beans from the Indonesian isle of Bali. The perfect match for quality Dutch cow milk. A roaring bouquet of flowers, butter, herbs and honey pampers your senses when opening this package. The natural rich cacao butter is so exciting, aromatic and savoury, that no vanilla or other flavouring is needed.
• White chocolate: 37%
• Single origin: Indonesia, Bali, Tabanan region
• Cow Milk from The Netherlands
• Beet sugar from The Netherlands  
• Farmer cooperative: Marga Utama
Blossom Bali White 37% chocolate is available in a Two bar Box and a Single bar Pouch
Two bar Box inside